Lorry Covers/ Lorry Tarpaulins and Truck Covers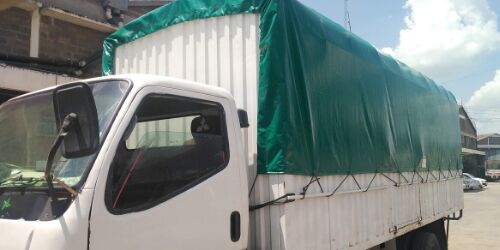 We have a variety of tarpaulins fabrics/material to choose from e.g,
PVC Coated,

PVC Laminated,

Ripstop Canvas,

Cotton canvas,

Raincoat material,

HDPE.
Each fabric is unique and offers unique abilities to cover different goods.
Thanks to our high-quality fabrics we are able to exceed our customers' expectations. Our tarpaulins are ideal for manifold applications, from lorry covers, truck covers, vehicle covers, machine covers for weather protection, and dust.
Please Note: Only use this as a guide as size may differ depending on the model of the body of the vehicle i.e where the hooks are placed
Lorry Cover/Tarpaulin Sizes
TARPAULIN FOR CANTER 21X15FT (6.44m x 4.60m)
TARPAULIN FOR HD 24X18FT (7.36m x 5.52m)
TARPAULIN FOR HD MITSUBISHI FH 26X18FT (7.98 x 5.52m)
TARPAULIN FOR HD ISUZU VRR 24X23FT (7.36 x 7.06m)
TARPAULIN FOR HD FUSO FIGHTER 30X18FT (9.20 x 5.52m)
ISUZU FRR 25X14FT (7.67 x 4.29m)
40FT TRAILER 55X22FT (16.87 x 6.75m)
10 WHEELER 30X20FT (9.20 x 6.13m)